Can You Get Calcium Without Dairy?
Calcium is a mineral that plays a crucial role in our body. It's a mineral that is not only responsible for keeping bones and teeth strong but also carries out important functions in the body such as muscle contractions, nerve transmission, blood clotting and controlling your muscles.
This mineral has a wide range of availability in foods, not just milk and dairy. It is a common misconception that you can only have calcium whenever you drink cow's milk or eat food that is rich in dairy. In fact, there is nothing special about calcium content in cow's milk, you can get the same amount of calcium that is effectively absorbed by drinking fortified soy milk. Even better, eating vegetables that are rich in calcium in low-oxalate vegetables such as bok choy, broccoli, and kale that absorbable by 15% – 30% more than drinking cow's milk according to research cited by Dr. Greger.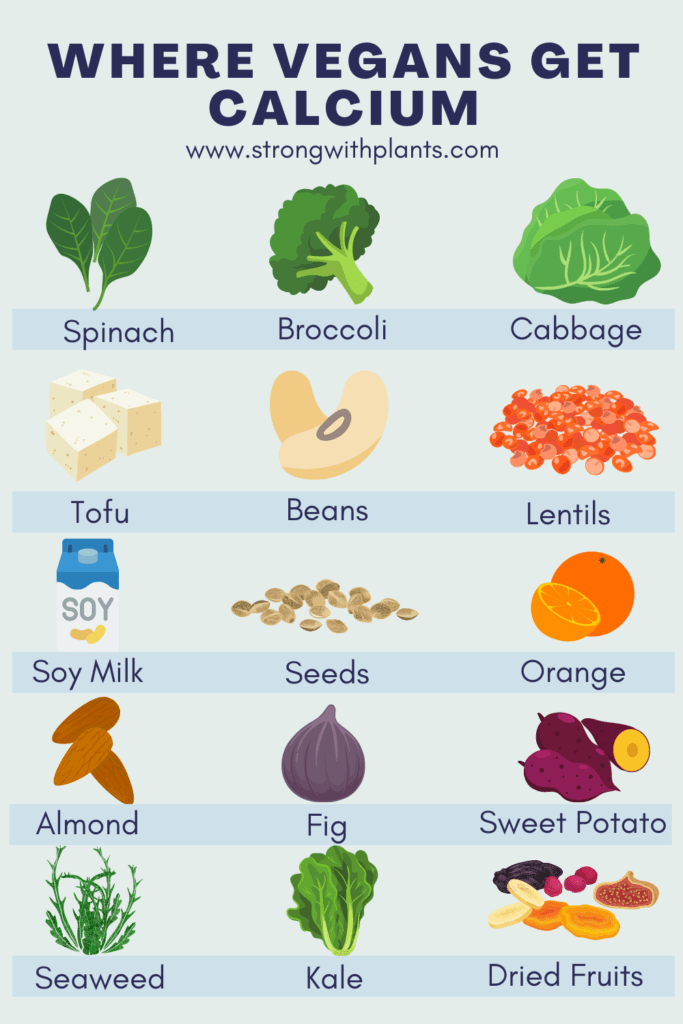 Many plant foods contain this mineral so you can get all the calcium you need through a plant-based diet.
Here Are The Top 9 Vegan Foods That Are High in Calcium
1. Lentils, Beans and Peas
The intake of legumes—beans, chickpeas, split peas, and lentils. Not only they are rich in fibre, but they also are an excellent vegan calcium source.
Cooked per 100g
Soybeans – 277 mg
White beans – 90.00mg
Navy beans – 69.00 mg
Bean sprouts – 56.00 mg
Chickpeas – 46.00 mg
Kidney beans – 26.00 mg
Green Peas – 24.00 mg
Lentils – 19.00 mg
2. Leafy Greens
Leafy green vegetables are incredibly healthy, and many of them are a great vegan calcium source
Serving Size: Per 100 g
Kale Cooked – 272 mg
Kale Raw – 254 mg
Collards Cooked – 249 mg
Collard Raw – 232 mg
Bok Choy – 114 mg
Chinese Cabbage Cooked – 109 mg
Chinese Cabbage Raw – 105 mg
Broccoli Cooked – 49 mg
Broccoli Raw – 47 mg
3. Seeds
Aside from being a wonderful vegan calcium source, seeds also provide protein and healthy fats that the body needs.
Serving per 100g added into a salad or oats.
Chia Seeds – 667 mg
Flax Seeds – 200 mg
Hemp Seeds – 70 mg
Sunflower Seeds – 70 mg
4. Soya and Tofu
Serving Size Per 100 g
Tofu – 200 to 400 mg
Tofu Yogurt – 118 mg
Tempeh – 111 mg
5. Fresh Fruits – Surprising Vegan Calcium Source
Serving Size: Per 100g
Oranges – 40 mg
Prickly Pears – 56 mg
Tangerines – 37 mg
Figs – 35 mg
Kiwi Fruit -35 mg
6. Seaweed
Serving Size: Per 100 g
Best eaten raw – 129 mg
7. Dried Fruits
Serving Size per 100 grams
Goji Berries – 190 mg
Figs – 162 mg
Currants (Dried Gooseberry) – 88 mg
Raisins (Dried Grapes) – 62 mg
8. Nuts
Serving Size: 100 g
Almonds – 267 mg
Brazil Nuts – 160 mg
Pistachio Nuts – 105 mg
Hazel Nuts – 100 mg
Walnuts – 98 mg
9. Drinks
Nut milk is one of the easiest to consume vegan calcium sources. It's an alternative to milk without any of the downsides of dairy.
Served per 100ml
Almond Milk (unsweetened) – 184 mg
Soy Milk – 123 mg
How Much Calcium Do You Need?
Dr Greger recommends at least 600 mg daily via calcium-­rich plant foods mentioned above.
This video will help you to understand calcium in cow's milk versus calcium in plant-based foods.
You can find the importance of Vitamin D and how to get it here.
Supplements
With so many natural vegan sources of calcium, we don't think that supplements are necessary.

If you feel that you still need supplements, then iHerb is a great place to order.
Sources:

https://www.nutritionvalue.org/
NutritionFacts.org by Dr. Greger https://nutritionfacts.org/video/calcium-absorption-soy-milk-versus-cow-milk/