Strong with Plants paid the full price for these items. These vegan products' reviews are genuine. Not a sponsored post.
I am obsessed with products and food that are ethical. These vegan products are free from nasty chemicals, organic, eco friendly and of course cruelty-free. Despite the nature of my lifestyle as a full-time traveller, regardless of where in the world I am, I always try to look for products that are compatible with my lifestyle.
I love trying and experimenting with vegan products and finding out what works for me and what doesn't. During the Covid pandemic, we spent a lot more time in one country than we usually do. That country happened to be South Korea.
Likely, my husband realised that iHerb, a website that we had been using in the UK can deliver to South Korea, Hooray! It became my favourite site for the duration of our stay in Korea. I use this site for ordering vegan products: skincare, body care, makeup, toiletries and even chocolate! (this for another day).
I have been trying quite a few products for personal use that I will be sharing with you giving my honest opinion. You can decide for yourself if these vegan products are for you.
I have been using Dr. Bronner's soaps in the past and I love them.
I was looking for a quality alternative and came across Dr. Woods soaps. I decided to give it a go and I don't regret it. This Dr. Woods Pure Castile Soap is perfect for people with psoriasis and who have sensitive skin, like mine. I have been using it for a few months and my skin feels moisturised, clean and most importantly not irritated. The soap rinses completely without leaving
residue. It is very gentle, it's natural with a sweet and not overpowering almond aroma.
From time to time I use this soap on my face and I have got a great result. My face felt soft without dryness.
I am only dissatisfied by the lack of lather and because of that, I feel the need to use it more. Then again, if you have delicate skin it's better to have products with minimal lather which means they are natural without harsh chemicals in them. Usually, products with a lot of lather have foaming agents that could irritate the skin.
I found out that Castile soaps can be used for washing hair, for a household all-purpose cleaning, adding in laundry soaps and because it's so gentle it can be used to wash pets. Personally, I have only tried it on myself.
It does its job and I am certainly happy with the result.
Due to the fluctuation of the temperature, my scalp started to show a sign of dryness and I wanted to get a conditioner that can be applied to the scalp as well as to the hair. After searching for some time on iHurb website I found this product. Using it for the first time, I fell in love with the scent and the smooth consistency of the conditioner. It is not too runny and not too thick and it absorbs into the hair easily.
After using it three times a week I have noticed some differences in my scalp. I stopped having irritation and my hair condition has improved overall. My hair is naturally wavy and tends to dry quickly. Using this conditioner improved the texture of my hair. My hair looks less dry and very soft. As I have been washing my hair so often I can't comment on what effect would it have on my hair if I would have washed it once or twice a week.
The overall experience has been pleasing and will gladly continue using it.
This shampoo does exactly as it's suggested – to relieve itchy scalp. My scalp feels calmer and the flakiness drastically improved. The aroma is very pleasant with a fresh herbal smell. I haven't used this shampoo
for long as I have started using it recently and I can already feel the results. I can say that it made my hair feel clean, light, and reduced the itching.
I would recommend giving it a bit of a shake to get the right consistency before using it as it could be a bit runny when used for the first time. Otherwise, the shampoo is very good, it helps to get rid of excess oil and balances it out.
The shampoo is also reasonably priced compared to expensive shampoos that claim to resolve scalp problems.
This toothpaste claims that it prevents tartar and strengthens the teeth. But one thing I'm sure about is that my teeth look and feel squeaky clean. This toothpaste is fluoride and SLS-free, and it has no toxic ingredients. Also, a little goes a long way so it's a really good purchase.
Because my teeth are sensitive, I can't use kinds of toothpaste that are not suitable for sensitive teeth. But this toothpaste has been gentle on my teeth. Since I started using it, I haven't been complaining about the sensitivity of my teeth. So, this works for me and I will surely continue using it.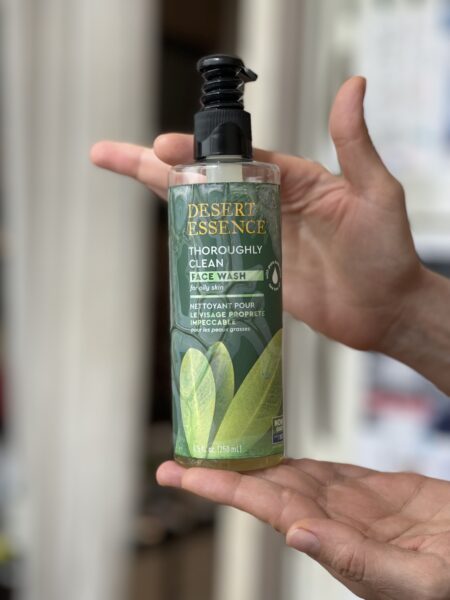 This is another product that I love. I use this face wash every morning and night as it cleans my skin very well without drying it out. All the ingredients in it are chemical-free that are gentle to my skin. It also contains natural organic oils which help to refresh and smooth my skin.
This product lasts a long time because a small amount is enough for my entire face. I have a combination skin type, and I find it works great for me. My skin is prone to irritation however since I started using this face wash, I haven't experienced any.
My only minor complaint is that it contains a tea tree that can sting your eyes if applied too close to them. The stinging immediately goes away after thoroughly washing it off.
This conditioner is gentle enough to use every day although I only use this 2 to 3 times per week. It works well with my dry hair despite super hard water.
Container wise, I personally think it's easy to use and the bottle will last you a long time. I even have got a bit left. The consistency is just right, and it doesn't leave any oily substance. In fact, my hair always feels light, soft and shiny after I use this conditioner.
These body lotions have beautiful natural ingredients. I initially purchased hydrating body lotion and was very happy with it so I decided to repurchase and also bought another one, soothing body lotion for sensitive skin types. I like to use the lotion for sensitive skin at night because of its mild natural aroma while the hydrating lotion I use during the day.
Both of them, have the same feeling on my skin – hydrating and soothing. Very true to their names. My skin absorbs these lotions without the oily feeling. The smell is subtle and mild.
Definitely worth the purchase!
This is also my second purchase of this brilliant eye cream. I only need a pea-size amount every time I use this and it's enough to make my under-eye areas smooth. It is absorbed easily by the skin without the heavy feeling and does not irritate my skin around the eyes.
I love vegan products that smell like coffee like this eye cream. It comes with a pump which makes it very easy to use and apply. Even with daily use, my first bottle lasted me a while before repurchasing.
This eye cream become a part of my morning routine. It comes in a glass jar, which is one of the reasons why I love it. It's the best sustainable alternative and it has recyclable packaging which is important for our environment.
Note: Referral codes were used. All tested by myself. The products have been fully paid for. Not sponsored by iHerb or the manufacturers.
If you want to know Martina's gift guide, click here.