In this article, I am going to share restaurants and places we stayed in Sri Lanka during several trips including our long road trip adventure by car to Jaffna and back to Colombo. Each time we were on a journey to discover amazing places, made lots of new friends, saw some magnificent scenery, ate extraordinary food and stayed in unique places. As you know being vegan in Sri Lanka is a challenge although being vegetarian is super easy. Sri Lanka loves milk (not as much as South Korea/Japan). It's part of tradition and culture.
This article is all about our experiences, particularly about travelling as a vegan in Sri Lanka but outside of Colombo.
Some of the other related articles in Sri Lanka
Sri Lanka Travel Guide with 16 Travel Tips – General travel guide for Sri Lanka
Vegan Restaurants in Colombo | 19 Best Places to Eat – Restaurants in Colombo for Vegans
25 Best Vegan-Friendly Cafes in Colombo with Drinks & Food – Cafes in Colombo – particularly for digital nomads
1. Kandy, Central Sri Lanka
Kandy is the largest city in central Sri Lanka. It's surrounded by mountains, which are home to tea plantations and rainforests.
Vito Wood Fired Pizza – Amazing stone-baked vegan pizzas in Kandy
This was an unexpected find. We were expecting to have just a salad and a drink and nothing more.
The veggie supreme can be made without any cheese and the staff confirmed that the dough was egg-free and dairy free.
We ended up with delicious pizzas.
Address: 56 Saranankara Rd, Kandy 20000, Sri Lanka
Phone: +94 77 454 9000
They are also on UberEats for delivery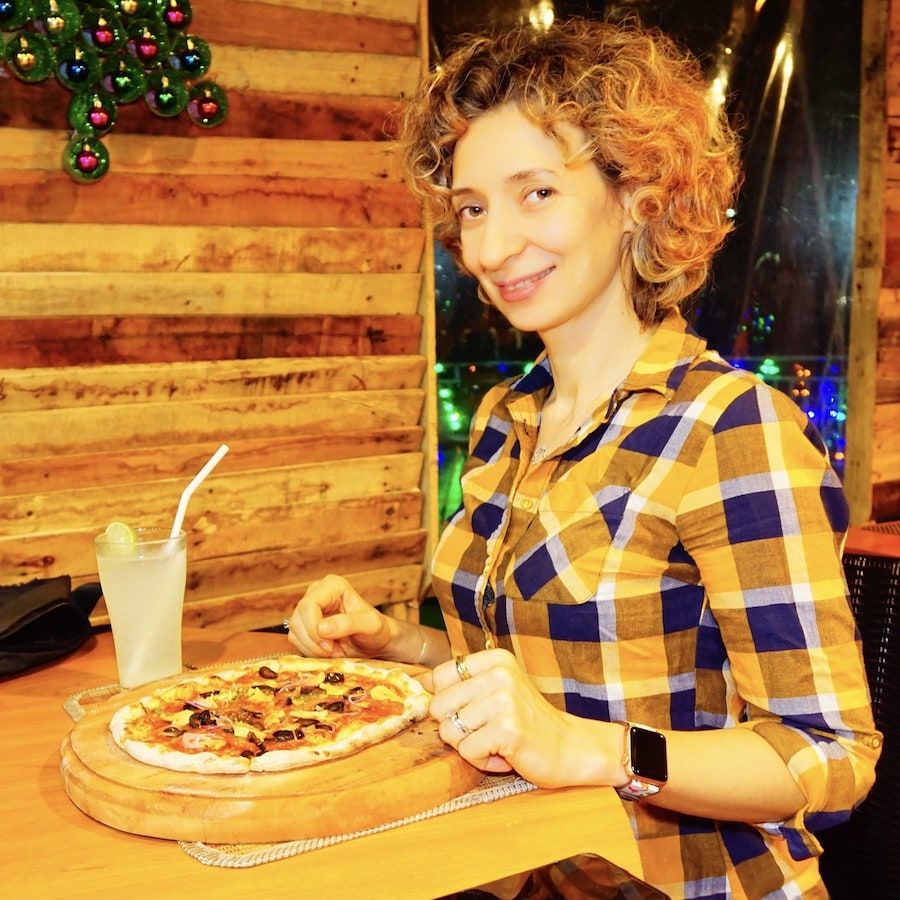 Cool Corner Fried Ice Cream Parlor – Vegan ice cream in Kandy
Cool Corner Fried Ice Cream Parlor offers vegan ice creams and desserts that you could die for. Here you can find fancy vegan ice cream. There are plenty of options to choose from, the menu had a list of fried ice cream with fruity, chocolaty, coffee, herbs and spicy flavours.
For vegan ice-creams, they use soy or coconut milk.
I decided to go for Chocolate Chili and Date flavour and it was delicious. I also tried other varieties with banana, coffee and ginger. They also have sugar-free options.
They fry ice cream in front of you and you can see what the ingredients are.
Ice-Cream: 5/5
Ambience: 4/5
Cost: Average ($15 for a couple)
Address: 114 Peradeniya Rd, Kandy 20000, Sri Lanka
Phone: +94 812 205 218
Parking – Limited spaces available on the road
Hi-Pro Soy (Soya Centre) – More vegan ice cream in Kandy
Hi-Pro Soy (Soya Centre) is a popular location for unique soy Ice cream with different flavours. It has served Kandy and visitors for multiple generations. I would imagine that every vegan in Sri Lanka knows about this place, at least every vegan in Kandy would.
But a little unknown fact is that all the other food served here is also vegan. They are open every day except on poya day (full moon) offering soy ice cream, soy milk and soy savouries such as samosas and roti suitable for vegans.
Ambience: 2/5
Food: 4/5
Address: YMCA Building, E L Senanayake Veediya, Kandy, Sri Lanka
Phone: +94 75 636 3219
Gannoruwa Agricultural Complex – Budget-friendly vegan options in Kandy
Gannoruwa Agricultural Complex is advertised as vegetarian but all the food items are vegan.
A large variety of Sri Lankan traditional food, as well as Indian food, is available during the day from multiple stalls. We can highly recommend sweet potato cutlets.
Excellent budget-friendly and authentic vegan food in Sri Lanka.
Food: 5/5
Ambience: 2/5
Parking: Limited spaces available.
Address: A1, Peradeniya 20400, Sri Lanka
https://steemit.com/celestialchallenge/@udayakumarage/gannoruwa-agricultural-farm-in-kandy-sri-lanka
2. Habarana – Close to Seegiriya, Dambulla, Minneriya
Habarana Village Tour – Vegan food options
Habarana Village Tour includes lunch at a village and often only one dish isn't vegan (fish from the lake).
There are many providers of similar tours and all appear to be similarly priced and the experience feels the same. Some tours start with a ride in a bullock cart, we suggest that you skip this. (You can decline and walk the first part – that's what we did or ask them at the start and get a jeep ride to the first point of interest)
A4 Villa Habarana – Place to stay with exceptional vegan food in Habarana
The owner of A4 Villa manages the hotel and the restaurant. He was quite happy to make changes to their regular menu to accommodate us. While most restaurants would have at least one vegan item, we were offered a variety of yummy vegan food.
The rooms were very comfortable, the internet was fast, and the food was delicious.
Food: 5/5
Ambience: 4/5
Cost: Not low budget, but not expensive either. Excellent value for money.
Address: Sri Lanka, Habarana, Town Const. Area, Habarana.
Parking: available at the hotel
Book: Via Agoda
Cinnamon Lodge Habarana – Awesome place to stay, great food
All hotels by Cinnamon have been amazing (so far). They make it easy to travel as a vegan in Sri Lanka. We've stayed in several over many years. They also have great food and friendly staff. We are not fans of massages in Sri Lanka…. except at Cinnamon hotels as they have well-trained professional masseuses.
We've stayed at this place more than once.
As you'd expect from any Cinnamon hotel, you can speak to one of many chefs in Cinnamon Lodge Habarana and get food prepared exactly how you'd want.
They have a buffet quite often with many vegan dishes however, It's best to get a chef to show which items are safe to consume.
One of the perks of being vegan in Sri Lanka is that you are forced to interact with people a lot more.
Stay: 5/5
Food: 4/5
Address: 02 50150, Habarana Roundabout, Habarana, Sri Lanka
Phone: +94 662 270 011
Book: Via Agoda via Booking.com
Colombo to Jaffna Road Trip
3. Kalpitiya – Kite surfing capital – Close to Puttalam
Ruwala Resort Kalpitiya – place to stay with vegan options
On the way to our next destination, we saw a hotel/restaurant called Ruwala Resort. We decided to pop in to see if they were still serving lunch at 3 o'clock in the afternoon. The manager of the restaurant said that the time for lunch was over but they will cater to us anyway.
After finding out that we only eat plant-based food, he without hesitation said that they will take care of everything.
Our meal was ready within one hour and It was the most authentic and delicious food we had up to that point on our road trip.
The manager and the team went above and beyond our expectations making sure they had prepared the right food for us. I am still amazed by the variety of delicious vegan dishes that were made just for my husband and me.
Food: 5/5
Ambience: 5/5
Cost: Average ($10 for a couple)
Laptop Friendly – N/A
Address: 4P5P+V5Q, Kalpitiya Road,, Thihaliya, Eththale, Kalpitiya, Sri Lanka 61343, Sri Lanka
Phone: (+94) 32 3 299 299
Parking: plenty of parking at the resort
Book: Book via Agoda.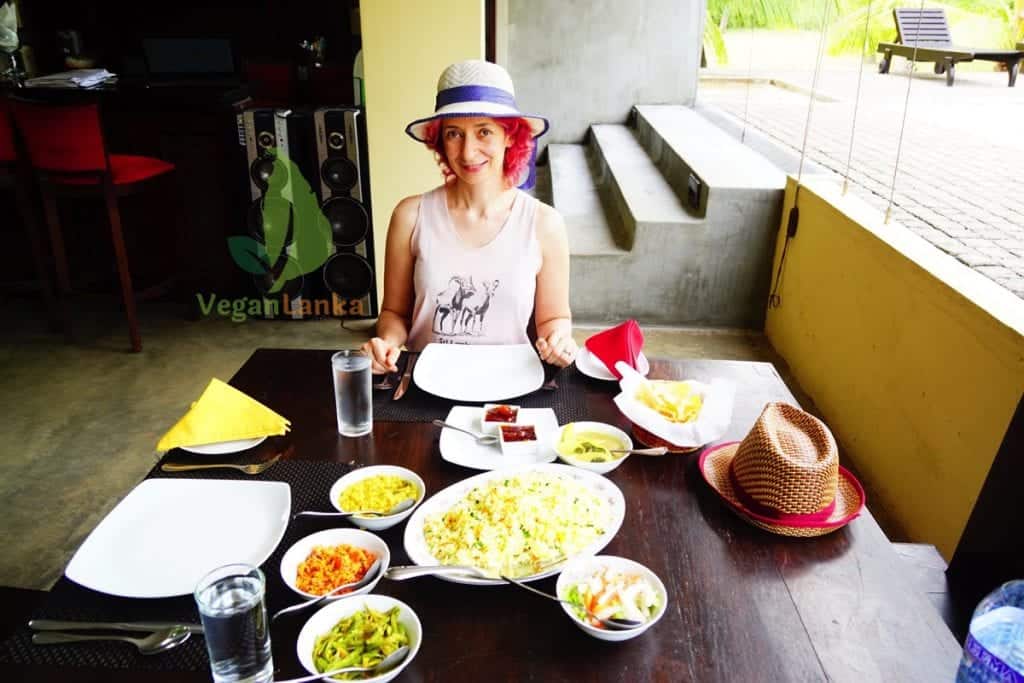 ---
We have found many blogs recommending food that's not vegan such as hoppers which almost always have eggs. If you ask Sri Lankans they will say it doesn't have eggs because of a very similar item – egg hoppers which contain a full egg, and regular hoppers don't.
However, the batter mix for all hoppers contains eggs which many Sri Lankans are unaware of.
---
4. Down South – Hikkaduwa, Galle, Matara
Galle is a city on the southwest coast of Sri Lanka. It's known for Galle Fort, the fortified old city founded by Portuguese colonists in the 16th century. Along with Hikkaduwa and Matara, these areas have easy-to-access beaches that are popular with tourists. Hikkaduwa in particular has a lot of turtle conservation programs. Travelling as a vegan in Sri Lanka, you will find that Galle has vegan items on almost all menus.
Aroma Restaurant – Vegan food in Hikkaduwa
We stopped in Hikkaduwa for lunch on the way back to Colombo. They have a few selections of vegan food and they were labelled on the menu.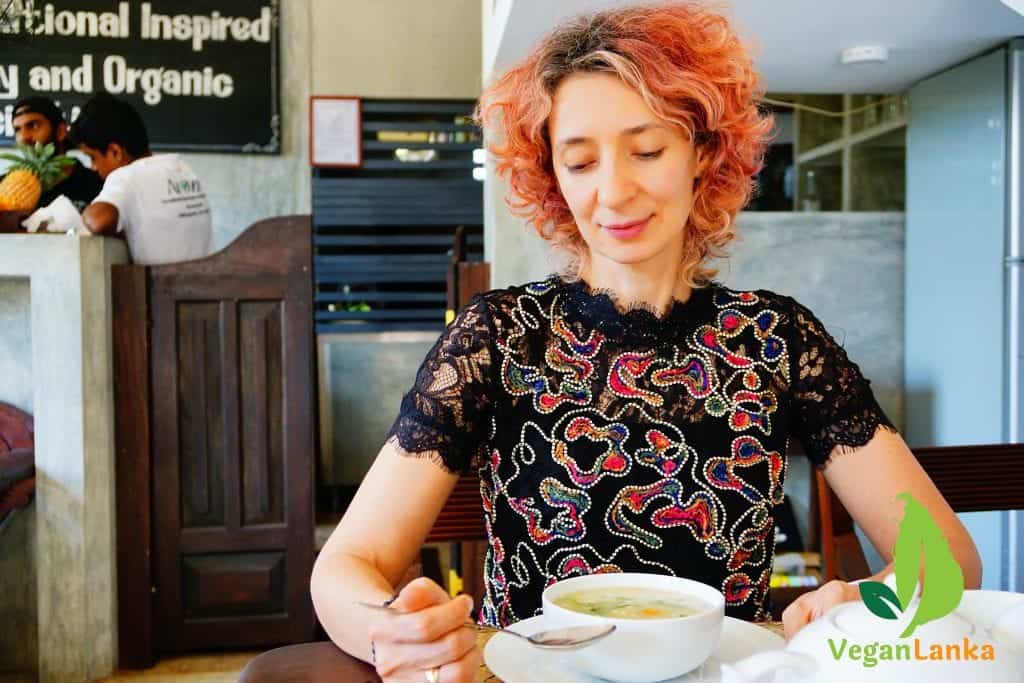 We ordered a hathawariya – a vegetable soup for the main and dosas that looked like pizzas. The food tasted good but the vegan pancakes (made without eggs) for dessert were exceptionally good.
The owner of the Aroma Restaurant mentioned on the menu that some of their family members are vegan.
Overall, it's a good restaurant with a few vegan options.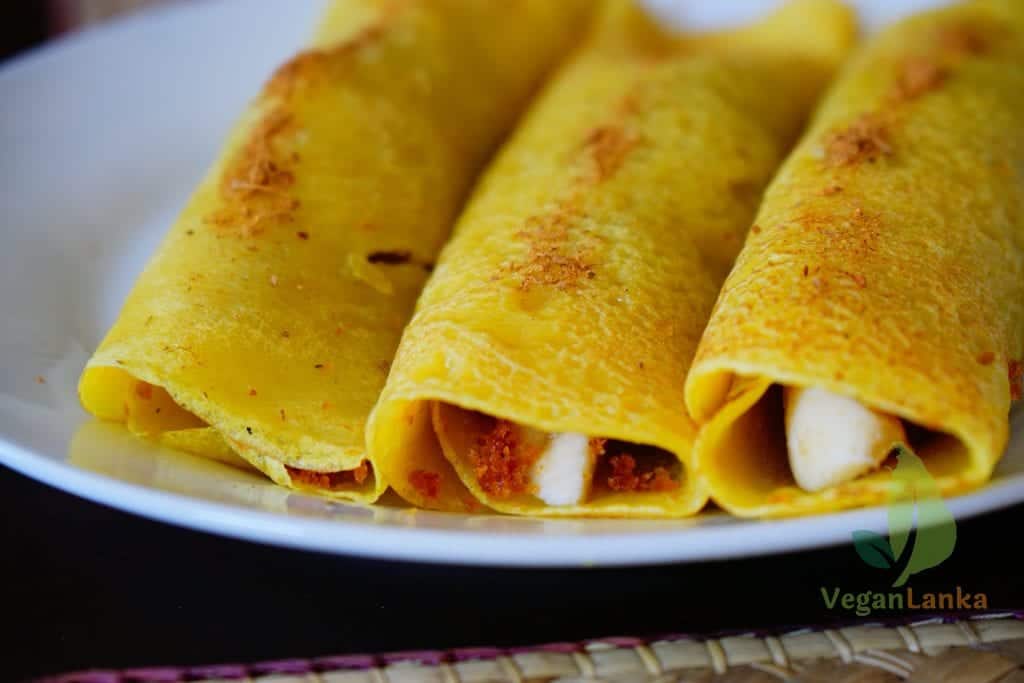 Food: 4.0/5 (Very good)
Ambience: 4.0/5 (Casual)
Cost: Average $12 for two
Loos: 3.5/5
Address: 285/A, Galle Rd, Hikkaduwa, Sri Lanka
Parking – On the side of the road.
Canowin Arcade – a rest stop on a highway
In Sri Lanka, is not that difficult to find vegan food at rest stops. You can opt for plain rice and vegetable curries usually made with coconut milk or fried vegetables in coconut oil or pol sambol suitable for vegans. In the worst-case scenario, you can eat fruits sold in abundance on roadside stalls in Sri Lanka.
Being vegan in Sri Lanka has one major challenge: You need to ask if it has milk, then you need to ask again if it has butter, yoghurt, cheese, and cream. Same again with eggs. They may say they don't have eggs (as a main ingredient) but it could be in the batter or the mayo.
Whenever we go to Galle or Hikkaduwa we always stop at Canowin Arcade rest stop to enjoy a variety of vegan food they offer. It's open 24/7 and ready to serve hungry travellers. The food court offers a large selection of local food and drinks at a very reasonable price.
There are many outlets to choose your meal from and selecting vegan food is not a problem. We ended up ordering vegetable curry from one outlet and a vegetable kottu, a Sri Lankan dish made from godhamba roti (a thin pancake) and vegetables from another outlet. Both dishes were vegan and very tasty.
Address: Southern Express Way, Sri Lanka
Phone: +94 342 241 077
5. Jaffna – The capital of the north
Jaffna is the capital city of the Northern Province of Sri Lanka. It's not a popular tourist destination. People were friendly outside of the main city. Some of the famous vegetarian food in Sri Lanka comes from this region.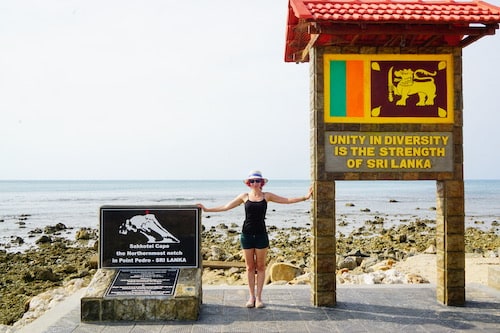 The Thinnai Organic Farm – Place to stay with vegan options in Jaffna
We stayed one night at Thinnai Organic Farm and didn't know that they had vegan options and planned to go to a restaurant nearby. They have a restaurant in the town and can deliver food to their hotel guests.
The farm was beautiful and It was interesting to see how bananas, pineapple, and papaya grow from newly planted fruits to magnificent trees.
The farm also has animals which is unfortunate.
We stayed in a fully equipped modern tent with a separate shower room and had everything we needed. There wasn't much going on, except roaming around the farm and admiring different fruit trees.
Our dinner and breakfast were delivered from the Thinnai restaurant nearby.
Address: Puttur Rd, Sri Lanka
Phone: +94 212 030 400
Book: Via Agoda Via Booking.com
The Thinnai – Vegan food in Jaffna
The Thinnai restaurant gets its supply from Tinnai Organic Farm and the food is very good. The restaurant knew what vegan means as they had vegan customers before and they catered according to their needs. Everything was nicely packed and the food was hot.
We ordered a curry each and didn't realise that each curry was accompanied by many small curries. (pickles, vegetable dishes, papadam and grams) At first, we thought that the order was delivered by mistake to us but after going through the bill everything was right. So we ended up with a table full of delicious vegan food for the two of us.
The food was very tasty, freshly made with full of flavours. We set up a table by our tent and enjoyed our meal slowly while watching the stars.
The price for dinner was super cheap for the amount of food we had. The service was brilliant and we ended up with more than we asked for.
However, on the following day, we asked for a platter of fruits for breakfast which arrived on time. We thought it was a bit pricey for a bowl of fruits compared to the feast we had the day before which was the same price. (The real issue here was that they had used imported expensive fruits instead of the fruits from the farm we stayed in)
Not too impressed by the breakfast but won't complain as overall we had a great stay and had an amazing dinner.
Food: 5/5 – Dinner
Address: 86, Palaly Road Thirunelveli, Jaffna 40000
Parking: Parking isn't an issue.
Nallur Holidays Inn – Budget-friendly place to stay with vegan options in Jaffna
We stayed there only one night and didn't have any issues with the breakfast. People in the Northern part of Sri Lanka usually call vegan food vegetarian, you still need to confirm with them but 9 out of 10 times the food will be vegan.
We enjoyed our breakfast Pittu with Dhal (lentil curry). Pittu is a breakfast dish and it is made of steamed cylinders of ground rice layered with coconut. It was good and quite fulfilling.
Address: 298 Arasadi Road, Jaffna, Sri Lanka
Phone: +94 212 216 986
Book: Via Agoda Via Booking.com
6. Negombo
Jetwing Ayurveda Pavilions – A vegan-friendly luxury place to stay in Negombo
Jetwing Ayurveda Pavilions is a purpose-built health resort that offers ancient healing traditions with modern Sri Lankan hospitality.
Ayurveda is one of the world's oldest holistic healing systems. It was developed in India 300 years ago. It is mostly based on the belief that our health and wellness lie on a subtle balance between the mind, body and spirit.
The team of trained doctors in their Ayurveda Therapy Centers offer demonstrations and awareness programmes in order for customers to fully understand this traditional science. It's fascinating once you get to know the purpose of this therapy and how they do it. There were swimming pools, yoga, meditation, and music therapy services available to ensure our experience was holistic.
You can experience Ayurveda therapy, and indulge yourself with special Ayurvedic meals and beverages for your wellbeing.
Herbs and Spice 100% vegetarian restaurant located in Jetwing Ayurveda Pavilion
Herbs and Spice restaurant is part of this hotel and it is vegetarian with delicious vegan options. The restaurant has two large dining rooms one is an airy dining room and the other one is indoors and air-conditioned.
There was an excellent range of vegan options on the menu and my husband and I ordered a few dishes.
I particularly liked the beet mango salad it was fresh and tasty with the right combination of flavours. Service was good and efficient.
Be aware of taxes, the price doesn't include the tax and seems reasonable at first.
Great place for a special occasion or to spend a relaxing evening.
Food: 4.5/5
Ambience: 4/5
Cost: $30 for dinner excluding wine for 2
Address: Porutota Road, Ethukale, Negombo 11500, Sri Lanka
Book: Via Agoda Via Booking.com
7. Trincomalee
Nina Restaurant – Budget-friendly vegan options in Trincomalee
Nina is family-owned and runs a restaurant offering homemade food. It's not a vegan restaurant but they offer vegan options.
When we decided to have lunch we were told that it was a buffet and we can have 10 vegan curries and eat as much as we like.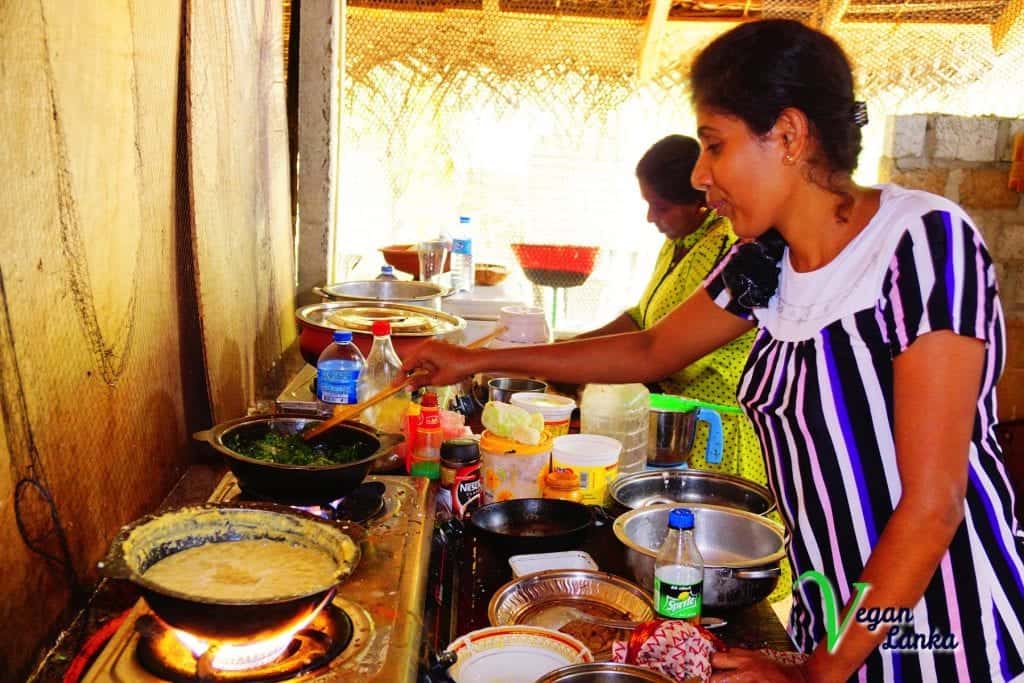 Nina is a must-visit if you are in Trincomalee to experience truly Sri Lankan vegan cuisine.
At the end of our meal, we were offered a speciality coconut tea on the house which was very tasty. We loved the place and the family we connected very well with.
The curries were delicious and freshly made coming straight from the hob. There were different clay pots with varieties of vegetables, rice, beans and potatoes.
We ended up trying every curry filling up our plates to the top and experiencing authentic Sri Lankan cuisine. We got to meet all the family and they were very kind, and attentive and kept offering us more food.
Food: 4.5/5
Ambience: 4/5
Cost: Average $6 for a couple
Address: Sarvodaya Rd, Trincomalee, Sri Lanka
Phone: N/A
Parking: plenty
Orion Beach Way Resort – Budget-friendly stay with vegan food in Trincomalee
Orion Beach Way is a resort with cabanas where the restaurant can cater to vegans. The chef is happy to cut fruits brought in by staying guests for free. The chef is also very friendly and the staff are happy to cater to any food requirements.
Address: No,178/15 , Ales Garden, Nilaveli Road, Trincomalee., 310000, Sri Lanka
Book: Via Agoda Via Booking.com
8. Eastern Province – Pasikuda – Batticaloa
This area is less popular with tourists due to its location on the Eastern coast. Ventured by serious surfers and tourists with more time to relax who will find some of the best beaches in Sri Lanka or perhaps the world.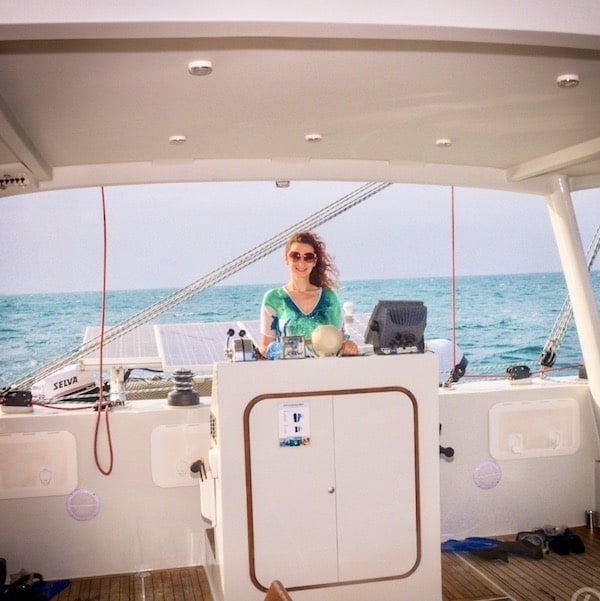 Maalu Maalu Resort & Spa
This is one of the best resorts we've stayed at. It's a peaceful location with a private beach. Comfortable chalets and restaurant staff that are happy and willing to cater to any request.
If you could only spend time at one resort in Sri Lanka (and love the sea) then this would be it.

It's on the Eastern coast and it's perfect for watching the sunrise in the morning and doing some guided meditation or yoga.
Address: Coconut Boat, Pasikuda 30410, Sri Lanka
Book via Agoda via Booking .com
Negatives: This place is known for fresh fish.
Other articles related to travelling as a Vegan in Sri Lanka
If you are a vegan in Sri Lanka or planning on travelling then the following articles may be of use.
Sri Lanka Travel Guide with 16 Travel Tips – General travel guide for Sri Lanka
Vegan Restaurants in Colombo | 19 Best Places to Eat – Restaurants in Colombo for Vegans
25 Best Vegan-Friendly Cafes in Colombo with Drinks & Food – Cafes in Colombo – particularly for digital nomads
7 Amazing Types of Bananas You Must Try in Sri Lanka – Go bananas while you are here.
Rambutan | Exotic Tropical Fruits You Must Try & 6 Benefits – Don't miss the chance to eat this exotic fruit